Rail crime falls by 8% in Wales, say transport police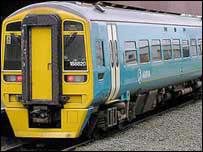 Recorded crime on the rail network in Wales has fallen significantly during 2009-10, say British Transport Police.
The 8.2% reduction in Wales mirrors a downtrend across the UK, where rail crime has fallen for the sixth consecutive year.
The number of robbery offences on trains fell from 10 in 2008-09 to six in 2009-10.
Transport police said low-level problems such as anti-social behaviour remained a concern.
Ch Insp Sandra England, transport police sector commander for Wales, said: "Crime across the rail network in Wales is continuing on a downward trend.
"This is an outstanding achievement and testament to the hard work and dedication of every officer and member of staff."
She added: "There is a continued emphasis on technology with train operating companies, Network Rail and the Welsh Assembly Government having invested in CCTV on trains and railway stations."
She said the reduction in robbery offences was "particularly pleasing" because "we know that this is one of the areas that causes most concern to passengers and rail staff".
"Wales has a dedicated crime team, based in Cardiff, which deals with the more serious crimes such as robbery and fraud and emphasises how seriously we take these matters," she added.
Transport police said there had also been a reduction in offences such as obstructing trains and endangering safety.
However, low-level problems remained a concern for passengers.
"Research from Passenger Focus shows that young men under 26 are most concerned, which is understandable as they are the most likely to be assault victims," said Ch Insp England.
More police will be put on patrol in the evenings with the aim of tackling "some of those anxieties" and boosting passenger confidence.
Related Internet Links
The BBC is not responsible for the content of external sites.