US troops in Afghanistan outnumber those in Iraq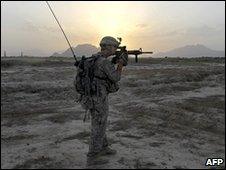 There are more US troops in Afghanistan than Iraq for the first time since Saddam Hussein was toppled in 2003, officials say.
New Pentagon figures show there are currently around 94,000 troops in Afghanistan compared to 92,000 in Iraq.
President Barack Obama has pledged to withdraw all combat troops from Iraq by the end of August.
Up to 50,000 are expected to remain there until the end of 2011 to help train and equip Iraqi forces.
In December, Mr Obama announced he was sending an additional 30,000 troops to help battle the Taliban insurgency in Afghanistan.
The total number of American troops in the country is expected to reach around 100,000 later this year, while Nato allies contribute another 47,000 soldiers.
US troops first fought in Afghanistan shortly after the September 2001 attacks on New York and Washington.
Related Internet Links
The BBC is not responsible for the content of external sites.