Iran 'ready for new chapter of co-operation' - UN envoy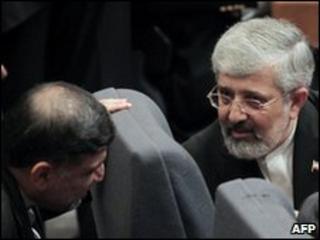 Iran says its nuclear fuel deal proves it is ready to open a new chapter of cooperation with the West.
In an interview Tehran's ambassador to the International Atomic Energy Agency (IAEA) urged the UN Security Council to respond positively.
Ali Asghar Soltanieh was speaking to the BBC on the day that Iran officially outlined the details of the fuel exchange to the the UN's nuclear watchdog.
So far Western powers have said the agreement is too little too late, and are pursuing sanctions against the Islamic state.
Removing stockpile
The fuel swap was first proposed last October as a confidence building measure by the IAEA along with America, France and Russia (the so-called Vienna Group) on behalf of six world powers who believe Iran's trying to acquire nuclear weapons.
It involves exchanging 1,200 kilograms of Iran's low enriched uranium for special nuclear fuel rods needed to power its medical research reactor.
For the six powers the advantage was in removing Tehran's stockpile of fissile material, thus slowing down any possible moves to build a bomb.
Iran sought amendments for eight months and then finally agreed to the transfer, following a high level intervention from Turkey and Brazil.
The new element is that the low enriched uranium (LEU) would be deposited in Turkey as a guarantee that Iran would get the promised fuel rods.
'Maximum concession'
"We are not sure unless this fuel is in the core of the reactor that such a thing will actually happen," Mr Soltanieh said, indicating that deep suspicions linger from America's failure to honour nuclear contracts after the 1979 Iranian revolution.
Once the rods materialise, the LEU "deposit" will go to whichever state supplies the uranium to make them, possibly Russia, he said.
He called this a "maximum concession" and urged the Vienna Group to "seize this unique opportunity" to negotiate the technical details of the deal.
"I'm sure if they will take the right course of action and change gear from confrontations, resolutions and sanctions…then I think we will open a new chapter of cooperation," he said.
Western suspicions
But Western states say the exchange has lost its value as a confidence-building measure, because Tehran's stockpile of fissile material has expanded since October, and because it decided in February to escalate uranium enrichment to 20%.
They've tabled a draft sanctions resolution in the Security Council, and see the fuel deal as a manoeuvre by Iran to avoid the tougher measures.
The core issue, say Western diplomats, is that Iran continues to enrich uranium in defiance of United Nations resolutions.
They point to IAEA statements that Iran's lack of cooperation prevents the agency from confirming Tehran's intentions are entirely peaceful, as claimed.
Mr Soltanieh made clear that suspending enrichment was a non-starter.
Such UN resolutions are "not possible, not implementable," he said, fiercely defending what he said was Iran's right as a member of the Nuclear Non Proliferation Treaty to produce nuclear fuel, and suggesting that the Iranian government might reconsider the exchange deal if the Security Council eventually votes for sanctions.
He urged instead that both sides "open a new avenue for mutual confidence building," noting that "there's been a serious trust deficit for the last 30 years".