South Africa's Julius Malema defends his radical views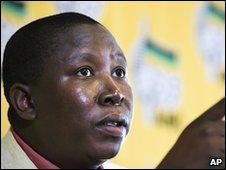 The controversial leader of South Africa's youth league has defended his behaviour after being disciplined by the ruling ANC.
Julius Malema had provoked anger with a series of outbursts about race, Zimbabwe and President Jacob Zuma.
In a BBC interview, he refused to admit he had done anything wrong, and brushed aside the measures taken against him.
In a clear reference to in-fighting in the ruling party, he said he felt let down by those he had relied on.
Mr Malema's brash populism has won him some support amongst poorer South Africans, BBC Africa correspondent Andrew Harding reports.
But his racially charged outbursts have angered and embarrassed many here.
Mr Malema said he had not yet attended anger management classes.
"One of the things I have learnt is never rely on any individual who is in politics," he told our correspondent.
Asked if he felt betrayed by the president, who said he was "out of control", he stressed his loyalty, adding that Mr Zuma "whipped the youth into line" whenever he saw "anything wrong".
When it was put to him that by seeking to compare himself to Nelson Mandela, he caused offence to many, he replied: "You know nothing about Nelson Mandela."
The 29-year-old youth leader did say he might stop singing the inflammatory phrase "kill the boer" from an old liberation song, boer meaning a white farmer.
But he added that South Africa's economy remained racially divided.
"I am fighting for the emancipation of blacks and Africans in particular, politically, socially and economically," he said.
"There are racial divisions in this country and the economy continues to grow but the gap between the haves and have-nots continues to grow. It's racialised."
Asked what he thought of Zimbabwe's land redistribution policy under Robert Mugabe, he described it as "very good except the violent part of it".
"In South Africa we must use the democratic means to redistribute the land," Mr Malema said.
"We've got a majority in parliament to make legislation that will give us power to expropriate land with compensation."
Mr Malema was earlier forced to make a public apology and told by the ANC to undergo anger management.
Officials had found he had brought the party into disrepute by criticising President Zuma.
Mr Malema had criticised Mr Zuma for rebuking him over comments he had made publicly backing Robert Mugabe.
He apologised "unconditionally" for dividing the ANC.
The youth leader was also fined 10,000 rand ($1,300), to be given to a youth project, and warned he would be suspended from the ANC if he transgressed again in the next two years.
He was initially cited by ANC officials on three charges - his public support for Mr Mugabe, abusing another BBC journalist (Jonah Fisher) and singing Shoot the Boer after it was banned.
But South African news agency Sapa reported that the charges were dropped in return for him admitting guilt over his criticism of Mr Zuma.
In March, Mr Malema was found guilty of hate speech for suggesting that a woman who had accused Mr Zuma of rape may have had a "nice time".
The president was acquitted of the charges in 2006.
Related Internet Links
The BBC is not responsible for the content of external sites.