Swarm of bees hinder rescue efforts at US road crash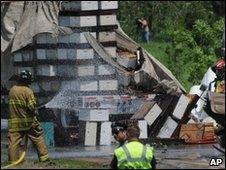 A swarm of angry bees hindered rescue workers attending to a road crash that killed two people near Lakeville, Minnesota, police said.
The bees were being carried by one of two lorries involved in the four-vehicle crash on Interstate 35.
Firefighters sprayed the area with water to keep the bees down while rescue crews attended the crash victims, state highway police said.
About 17 million of the insects were being carried on the lorry.
One of the first firefighters on the scene told reporters he saw a "big, black cloud" as he arrived.
"I opened up my door and got stung in the face by a couple of bees," Lakeville Fire Chief Scott Nelson told the Minneapolis-St Paul Star Tribune.
It is not known what caused Monday's crash, which crushed two passenger cars between the two lorries.
The driver of one of the passenger vehicles was found dead at the scene. The driver of the other car died later in hospital, police said.
Related Internet Links
The BBC is not responsible for the content of external sites.