Jim McColl hits out at stock market value of firm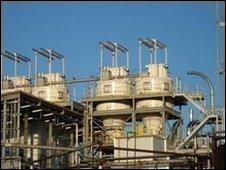 Entrepreneur Jim McColl has criticised the low stock market value placed on one of his companies.
Mr McColl said Clyde Process Solutions had performed strongly with profits of £4.6m.
However, he said he was "disappointed" at the continuing low value placed on the group.
The engineering company, which is part of the Clyde Blowers group, operates around the world.
It provides systems to move and process chemicals, metals and minerals.
The company said it was moving in to the sugar and petrochemicals business and had secured £9.3m from a leading US sugar producer.
The company's market value is nearly £17m, although its latest financial statement showed that net assets stood at £37m.
Mr McColl said: "We are reviewing ways to maximise value for our shareholders as a priority."
Related Internet Links
The BBC is not responsible for the content of external sites.