Workers misspell No Entry road markings in Warley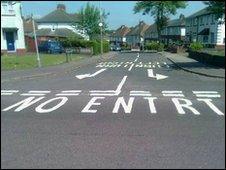 Workers are being ordered to repaint road markings after they misspelt a No Entry sign.
The markings spelt "No Entrt" in large white letters on Marshall Road, a one-way street in Warley, West Midlands.
Councillor Derek Rowley, from Sandwell Council, said it was an embarrassing error which would be rectified as soon as possible.
Residents who live on the street said they could not believe the mistake.
Mr Rowley said: "Of course it's a bit embarrassing but mistakes happen.
"We put our hands up to it - there's a 'T' on the end of it not a 'Y' and we'll rectify it as as soon as possible."
The error was made by a sub-contractor who will be contacted on Tuesday to change the sign at no extra cost, Mr Rowley said.
"Random checks are made on road markings but the council relies on the contractor to do the job correctly," he added.
Earlier this year, councils across England admitted paying hundreds of pounds to correct street signs with spelling and punctuation mistakes and missing information.
Westminster Council said five signs cost more than £1,000 to correct and Luton Council said two errors cost £118.
Related Internet Links
The BBC is not responsible for the content of external sites.