Sunderland parking fine campaigner loses court battle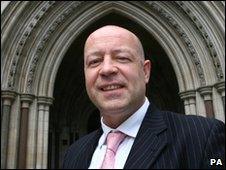 A parking fine campaigner has lost his High Court battle against what he claimed were unlawful penalty charges.
Neil Herron, 47, argued that a controlled parking zone in Sunderland city centre was unlawful because it was too large and confusing for drivers.
He wanted the 39 penalty charge notices issued against him for parking on single yellow lines within the zone to be ruled unenforceable.
The High Court in London ruled against the test case challenge.
Mr Justice Bean said his case was "entirely based on technicality and utterly devoid of merit".
Mr Herron, who faces costs of up to £20,000, said the court's decision would allow local authorities to go on making money out of parking tickets issued to confused motorists.
He said: "I am obviously disappointed the judgment did not go our way, but this is a David and Goliath battle and you don't always expect Goliath to go down with the first sling shot.
"The judgment has massive significance both for motorists and local authorities.
"It effectively means the authorities don't have to comply fully with the law whilst ticketing motorists for the most minor contravention.
"They will use use this judgment as a Dick Turpin's charter."
Mr Herron brought about the legal challenge after the National Parking Adjudicator Service rejected his appeal against the fines.
The former market trader argued that prohibitions in a controlled parking zone could only be enforced if every part of every road within the zone had been marked with either parking places, a single or double yellow lines.
Therefore, a pedestrian crossing with no such markings would render a whole zone ineffective.
The judge said the language of the regulation did not have to be "construed so literally as to produce an absurd result".
If Mr Herron had won, it could have led to thousands of drivers contesting penalty charge notices in other controlled parking zones.
Mr Herron was refused permission to appeal but said he was considering approaching the Court of Appeal to hear his case.
Following the ruling, Paul Watters, the AA's head of transport policy, said: "There is a need for greater clarity in the implementation of parking restrictions by councils across the country."
Ron Odunaiya, executive director of city services at Sunderland City Council, said: "We welcome the High Court's decision which again confirms that Sunderland's controlled parking zone is lawful.
"We have always believed Sunderland's parking rules to be firm but fair."
Mr Herron has spent more than £100,000 of his own money campaigning to improve the status of motorists who he said had been treated as "second-class citizens".
He was also a supporter of so-called "Metric Martyr" Steve Thoburn, who was convicted for using scales showing only imperial weights on his greengrocery stall in 2001.
Related Internet Links
The BBC is not responsible for the content of external sites.