Google Pac-Man eats up work time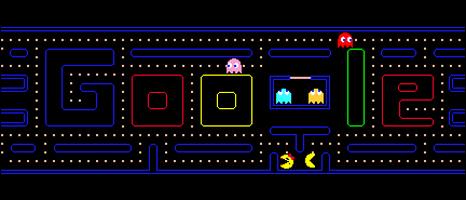 The Pac-Man game Google put on its home page gobbled up almost five million hours of work time, suggests a study.
The playable version of the classic video game was put on Google's front page on 21 May to celebrate 30 years since the launch of Pac-Man in Japan.
The search giant reworked the game so the layout was arranged around letters forming its name.
The Pac-Man game proved so popular that Google has now made it permanently available on its own page.
The statistics on how many people played and for how long were gathered by software firm Rescue Time. It makes time-tracking software that keeps an eye on what workers do and where they go online.
On a typical day, it suggests, most people conduct about 22 searches on the Google page, each one lasting about 11 seconds.
Putting Pac-Man on the page boosted that time by an average of about 36 seconds, the firm said based on the browsing habits of 11,000 Rescue Time users.
The firm believes this is a relatively low figure because only a minority realised that the logo was playable. To play, people had to click on the "insert coin" button which replaced the more familiar "I'm Feeling Lucky" button on 21 and 22 May.
Extrapolating this up across the 504 million unique users who visit the main Google page day-to-day, this represents an increase of 4.8 million hours - equal to about 549 years.
In dollar terms, assuming people are paid $25 (£17.50) an hour, this equates to about $120m in lost productivity, the firm said.
For that money, suggested Rescue Time, it would be possible to hire all Google's employees and put them to work for about six weeks.
Related Internet Links
The BBC is not responsible for the content of external sites.