Yemen al-Qaeda mediator killed in air strike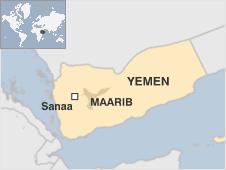 A local government official in Yemen has been killed in an air strike aimed at the al-Qaeda militant whom he was meeting.
Local tribesmen then blew up an oil pipeline in retaliation for the death of Jaber Ali al-Shabwani, the deputy governor of Maarib province.
He had been trying to get a key al-Qaeda militant to surrender, reports said.
The militant, named as Mohammed Said bin Jardan, was injured but escaped.
Three of Mr Shabwani's bodyguards were also killed in the bombing, security sources told reporters.
The Yemen army had meant to bomb the farm but hit the deputy governor's car instead, Reuters reported.
Armed members of the al-Shabwan tribe then attacked a pipeline that links a nearby oilfield with a Red Sea port of Al-Salif.
They blew up the pipeline with rocket-propelled grenades, and then struck at army units who came to repel them.
Maarib province is believed to be an al-Qaeda stronghold.
Yemen is the home of radical cleric Anwar al-Awlaki, believed to have been influential in the Christmas Day attempt to blow up a plane bound for Detroit in the US.
The Nigerian suspect, Umar Farouk Abdulmutallab, is said to have been trained by a Yemen-based group calling itself al-Qaeda in the Arabian Peninsula.