Jail warning after stepson shot himself in the head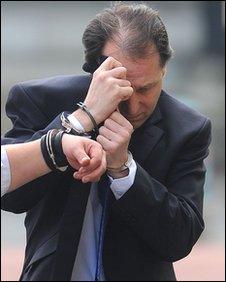 A father was warned he faces jail after his teenage stepson accidentally shot himself in the head while posing for a photograph with his illegal handgun.
Mike Hole, 50, of Newport, dialled 999 fled the scene, thinking the boy would die, and hid his semi-automatic gun, Cardiff Crown Court was told.
Lewis Bailey, 15, had emergency surgery and has since made a full recovery.
Hole pleaded guilty to child cruelty and admitted a charge of possessing a prohibited firearm.
The teenager held the .25 Beretta pistol to his head to allow Hole to take a picture on his mobile phone but the loaded gun went off.
Hole dialled 999 telling an operator a boy had been shot and he thought he was dying from his injuries.
The father-of-four then left the scene and hid the gun
He was traced by police and told them where he had hidden it.
Lewis was still conscious when paramedics arrived but was bleeding from a wound above the right ear and temple area.
He has since recovered and is due to take his GCSEs.
The court was told that Hole had left the scene because he thought his stepson was going to die.
The judge has now lifted an order preventing the teenager from being named.
At the the hearing on Friday, he admitted child cruelty by exposing the teenager in a manner likely to cause suffering or injury.
Hole was warned he would be given at least five years in prison when he is sentenced next month.
Recorder of Cardiff Nicholas Cooke QC told him: "It may be five years - but it may be five years plus something more."
Lewis's mother Edwina, who married Hole four years ago, was in court to support him.
Gareth Williams, defending, said: "There will be a number of references, including one from his wife.
"She will say that Lewis has made a full recovery and is due to sit his GCSE exams at the moment."
A charge of perverting the course of justice was ordered to lie on the file.
Hole was remanded in custody until next month.