Derry brothers banned from organised gaming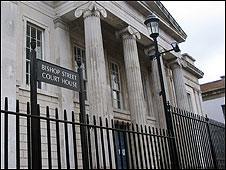 A court order has been imposed on two brothers from Londonderry banning them from taking part in organised gaming activity throughout Northern Ireland.
Paul Christopher Quinn, 49, from Amelia Court, and Terence Quinn, 41, from Clipper Quay, appeared at Londonderry Magistrates Court on Tuesday.
They were charged with organising and managing illegal gaming activity at the River Club in John Street between August and December 2009.
Both men were released on bail.
They will appear again at court on 22 June.