Police inquiry into voting fraud on the Isle of Man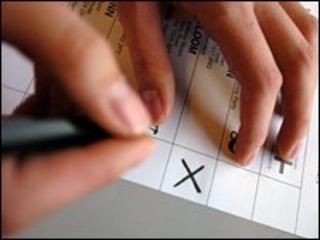 Police in the Isle of Man are investigating allegations of voting fraud ahead of the Douglas East by-election.
The by-election for the House of Keys seat is due to be held on Thursday.
Officers are investigating allegations of corrupt or illegal practice in the proxy voting process - where a person votes on someone else's behalf.
Two women, 23 and 24, and two men, 37 and 49, have been arrested in relation to the inquiry, police said.
All four are being held at police headquarters in Douglas.
The six contenders for the seat are: Kate Beecroft (Liberal Vannin party), Colin Cain (independent), Chris Heath (independent), John Joughin (independent) and Kevin Woodford (independent).
The seat was made vacant following Phil Braidwood's elevation to the Legislative Council in April.
The House of Keys is the lower, directly elected branch of Tynwald.