The changing face of NI's video gaming industry
BBC Radio Ulster's Cameron Mitchell explores how the video game industry in Northern Ireland is changing.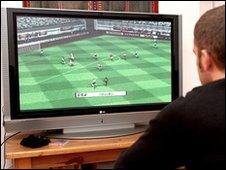 Northern Ireland is not usually associated with making video games.
It has long been the case that if you wanted a job in the video game industry you had to leave to find work.
It is a problem that industry veteran David Perry faced 20 years ago when he began writing computer programmes in his Templepatrick bedroom.
"That was the problem back then, there was no-one offering me any jobs in Belfast. There were no companies that did this, so there was no option but to go elsewhere."
Now based in Los Angeles, David Perry has become one of the most famous names in the business, producing the mega-hits Earthworm Jim, Terminator and Teenage Mutant Ninja Turtles. His games have totalled over a billion dollars in retail sales.
Mr Perry is hopeful that things are set to change for the video game industry in Northern Ireland.
"You can develop a game on the iPhone and have that game out in a month. You don't have to spend three years and millions of pounds to find out if people like your stuff, there is more room for experimentation now.
"There is absolutely no more restriction for Northern Irish game developers."
Christian McGilloway, who teaches Game Development at the Belfast Metropolitan College, agrees that new technology has changed the way people play games, offering exciting opportunities for the industry here.
"Gaming is massive at the moment, now more than ever because it is not just geeks playing in their rooms anymore.
"The big market is social gaming for Facebook and the Wii. It has gone from a group of boys sitting in their bedroom to people planting crops in work, or bowling in the pub on the big screen."
GFK Chart-Track, a company that monitors the sales of video games, reported that £1.73bn was spent on games in the UK last year. That is £500m more than was spent on films.
Local game designer John Owens is eager for the industry in NI to get a slice of that action.
Having spent many years working in England with companies like Rage and Argonaut, John recently returned to Belfast to form his own production house, WeeMan Studios.
The three-man set up are about to launch their very first title, Galactic Racer, for the iPhone. It has already been described as one of the top games to watch out for by Pocket Gamer.
But John feels more support is needed if the industry is to succeed in NI.
"We need a big developer to come to Northern Ireland and open up a studio, but to make it worth their while they would probably need to be given tax breaks.
"Although we have young talent in our universities, the more experienced talent isn't here. Anyone who would open up would have to move or hire from the UK.
"If we don't invest in the games industry in Northern Ireland, those who are being trained in our universities will continue to leave and go straight out of our economy," he said.
WeeMan's co-founder and creative industry consultant Liam McGarry says that a local industry network needs to be established.
"If people were to come back, what would they come back to? There's nothing quite here.
"However, I'm sure that a lot of people working in the gaming industry would be willing to come back if there was some kind of infrastructure in place."
Matt Johnston from Digital Circle, a new association of digital companies in Northern Ireland, agrees that collaboration is vital.
"The gaming industry in Northern Ireland is a newborn. We have half a dozen companies who have recently started up and they are all interested in collaborating.
"We have the talent and our people that are doing great things. It's just a case of making sure that we have the profile and are able to showcase it."
It appears that there is an energy in the industry that hasn't been felt before.
More and more students are now studying game development, and with video games such as the soon to be launched Dogfighter by the Londonderry-based company Darkwater, the industry in NI could certainly be on track.
Related Internet Links
The BBC is not responsible for the content of external sites.