World Cup hangover warning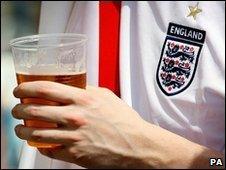 More than half a million British people turn up to work with a hangover each day and the figure is set to soar with the World Cup, experts say.
Nearly one in 10 go to work suffering from the effects of too much alcohol at least twice a week, a poll of 1,000 people by charity Drinkaware suggests.
And of those who are hungover, almost one in five admit struggling with their workload and to making mistakes.
Nearly one in 10 said they have had to leave early because they were too ill.
The findings also reveal contradictory perceptions of drinking, with nearly 60% of respondents admitting they have joked about having a hangover with their colleague or boss, despite 89% of people saying that having a hangover at work is unacceptable.
Drinkaware has teamed up with healthcare provider, Bupa, to offer advice about how to manage alcohol in the workplace.
Chris Sore of Drinkaware said: "Having a hangover at work doesn't just affect the person who has drunk to excess."
He said hundreds of thousands of people going to work every day after a heavy night would impact work productivity.
"An international sporting event like the World Cup will inevitably capture the attention of the nation and is a great time for people to come together, but hangovers at work are likely to increase."
Companies are advised to set out a clear alcohol policy to ensure all employees know what is acceptable.
Dr Katrina Herren, Medical Director of Bupa Health and Wellbeing, said: "As an employer, it is important not to ignore the effects of alcohol on employees or the adverse effects it can have on the workplace environment.
"Employees should also be aware that if someone is regularly coming into work with a hangover this could be a sign of wider alcohol or mental health problems."
Related Internet Links
The BBC is not responsible for the content of external sites.