Dead woman has conviction quashed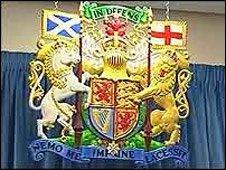 Appeal judges have quashed a fraud conviction against a woman who died during her legal challenge.
Nicola Gallagher, 38, from Haldane, West Dunbartonshire, died earlier this month after withdrawing a guilty plea over an alleged benefit fraud.
Judges at the Court of Criminal Appeal in Edinburgh ruled that she had been the victim of a miscarriage of justice.
The ruling centred on "unsatisfactory" advice from her lawyer before she entered her original guilty plea.
Mrs Gallagher was jailed for 12 months last year after admitting obtaining £16,000 by fraud through tax credits between April 2003 and July 2006.
The mother-of-four was alleged to have failed to disclose the full extent of her employment, her husband's earnings and to have claimed working tax credit for her son Jack who had died in 1998.
She admitted the offence at Dumbarton Sheriff, but after deciding to launch an appeal she was freed on interim liberation after serving about six weeks of her sentence.
In her appeal, she claimed she only pleaded guilty because her former solicitor, Matthew Berlow, told her that unless she did so he would withdraw from acting and leave her to defend herself.
Mrs Gallagher also maintained that she did not understand the nature of the charge and did not give a true and informed consent to the tendering the plea.
The Lord Justice Clerk, Lord Gill, who heard the appeal with Lady Paton and Lord Bonomy, said it was necessary for them to consider the way and circumstances in which the advice was given.
Lord Gill said: "It is plain that he (Mr Berlow) gave his advice to the appellant at a hurried first meeting in circumstances of time and place that were inappropriate to the seriousness of the charge.
"Moreover he gave his advice to her under the stressful warning that if she refused to accept it, he would leave her to represent herself.
"I conclude that the appellant did not have a proper opportunity to consider the implications of the step she was being pressed to take.
"In my view, the circumstances were clearly prejudicial to her. The conviction must therefore be regarded as a miscarriage of justice."
The appeal judges agreed that Mrs Gallagher's husband, Gordon, could continue her legal challenge following her death.
Related Internet Links
The BBC is not responsible for the content of external sites.