Core interests and key issues at US-China talks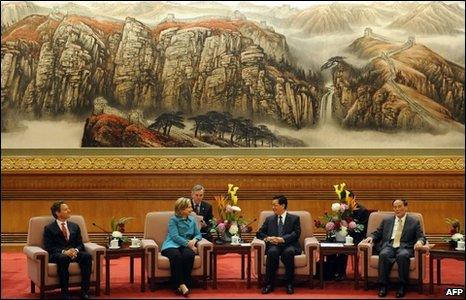 Both optimists and pessimists could find evidence to support their views about the relationship between China and the United States.
Optimists could take heart from the mere fact that these two countries have just held two days of talks - without any major disagreements.
Pessimists could argue that there remain many unresolved issues between the two nations, on everything from trade to climate change to North Korea.
But there is one thing that both sides agree on: the relationship between China and United States is too important to leave unattended.
US Secretary of State Hillary Clinton made that point at the opening ceremony for this second round of the Strategic and Economic Dialogue, held in Beijing.
"Few global problems can be solved by the United States or China acting alone. And few can be solved without the United States and China working together," she said.
These talks were initiated by US President Barack Obama and his Chinese counterpart, Hu Jintao, to map out future areas of co-operation.
Trade, reforming the world's financial institutions, piracy, cultural exchanges, energy security and regional flashpoints were just a few topics on the agenda.
The talks are not supposed to deal with the nitty-gritty of day-to-day events, but rather take a more long-term, strategic view.
Ministers and senior officials from a range of departments are expected to discuss issues that cut across policy boundaries.
No major agreements were expected, and few were delivered.
But pressing political and economic problems inevitably come to the fore whenever the leaders of important countries meet - and this occasion was no different.
North Korea, accused of sinking a warship from the South in March, was a major talking point.
The comments from officials on both sides revealed the common ground they share, and where their opinions diverge.
Both countries said it was important to resolve this crisis, but both have different approaches.
The United States has put its support behind South Korean President Lee Myung-bak's decision to deal with Pyongyang in the UN Security Council.
China has been more cautious, stopping short of blaming North Korea. It has called on all sides to show calm and restraint.
There are more fundamental issues that might undermine the relationship in the future. China, for example, seems to want more respect from the United States.
In his remarks at the opening of the talks, President Hu Jintao said: "What is important is respecting and accommodating each other's core interests and major concerns."
Respect our core interests is an increasing call from a more confident China.
But whatever the obstacles, some will see the talks themselves - 100 hours in total - as a success, coming as they do after a period of strained relations.
China was angry at the US announcement that it planned to sell arms to Taiwan, Google's withdrawal from mainland China and President Obama's meeting with the Tibetan spiritual leader, the Dalai Lama.
Professor David Shambaugh, of the George Washington University, said these talks suggested the relationship had matured since diplomatic ties were established 30 years ago.
"[The recent problems] poisoned the atmosphere and undermined trust, but it didn't disrupt the relationship," said Mr Shambaugh, director of the university's China Policy Programme.
Related Internet Links
The BBC is not responsible for the content of external sites.