Swedish sales of Glendronach whisky boost company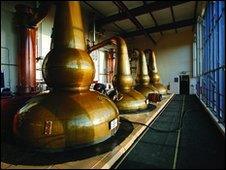 The Aberdeenshire whisky distiller Glendronach has revealed that Sweden has now become one of its key markets.
The distiller said its new ranges of malts had sold 25,000 cases worldwide, amounting to extra sales worth £2.4m.
The Aberdeenshire distillery was bought in 2008 from Chivas Brothers by the Larbert-based BenRiach Distillery Company.
Glendronach's 15-year-old "Revival" malt is sold by the Swedish drinks retailer, Systembolaget.
The company said it also had a strong following for its brands in the US, France, Belgium, Scandinavia and Taiwan, as well as the UK.
Regional sales director Alistair Walker said: "Systembolaget's product range is very comprehensive and, significantly, is developed continuously to match changes in trends and in consumers' tastes."
He said that to be accepted by Systembolaget, the government-owned chain of alcohol retailers in Sweden, was a real feather in their cap, as it showed it saw Glendronach as one of Scotland's outstanding malt whiskies.
Related Internet Links
The BBC is not responsible for the content of external sites.