Murder accused spoke of 'cutting up' Allison McGarrigle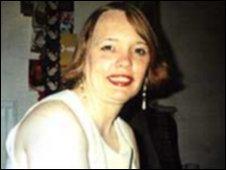 Two men accused of killing a woman and dumping the body at sea spoke about "cutting her up" following a row, a court has heard.
The claim was made at the High Court in Glasgow by a man who was abused as a boy by Charles O'Neill, 47, and 33-year-old William Lauchlan.
Both men deny killing Allison McGarrigle in 1997.
It is alleged they abducted the 39-year-old to prevent her reporting the abuse of a young boy.
Mrs McGarrigle was reported missing in February 1998. Her body has never been recovered and she was declared dead in 2005.
The court heard for a second day from a man who was abused by O'Neill and Lauchlan as a boy.
The court earlier heard how he moved in with the pair at their flat in Waterside Street, Largs, in 1997 and was joined by Mrs McGarrigle.
The witness, now 26, said he grew to "love" both accused and that they would often buy him gifts.
He said that there was once an argument at the flat and Lauchlan pushed Mrs McGarrigle onto a chair. She started crying and then went into a bedroom.
O'Neill allegedly said they had to get rid of her as she was "going to go to the police".
Prosecutor Dorothy Bain QC asked: "What did they say they were going to do?"
The witness replied: "They were talking about cutting her up."
Miss Bain said: "Willie and Charlie?"
The witness said he awoke the next morning and both accused were already up. Mrs McGarrigle was not in the flat.
The man claimed he was told she had gone and that they did not know where she was.
He added: "I believed most of it. I did not think at the time something had happened."
He told the trial that it was around a week after arriving at the flat that Mrs McGarrigle was no longer there.
The man also recalled being traced by police months later at the pair's new home in Largs after he was reported missing.
He said O'Neill told him that if they asked about Mrs McGarrigle to say she "is away for a paper".
The witness agreed with Miss Bain that he had once been "loyal" to Lauchlan and O'Neill, but now felt "gutted".
The trial later heard how O'Neill allegedly confessed to a fellow inmate at Barlinnie Prison that Mrs McGarrigle had been "done away with".
John Molseed said he was in prison in 1998 when O'Neill told him Lauchlan had been with a little boy and "she found out and was going to go to the police".
Prosecutor Miss Bain asked the 45 year-old: "Did he go on to say something more about Allison McGarrigle?"
Molseed replied: "That something happened and she got hit. Whatever else happened after that and she was done away with. She was guzzled."
Miss Bain then asked: "Did he say what happened to the woman's body?"
The witness said: "Put somewhere down Largs Beach and down a sewer pipe."
Molseed, who was jailed for three years for drink driving, later admitted he had been asked by a police officer to get information from O'Neill.
However, he denied a suggestion that by doing so he had been looking for an "advantage" for himself.
Lauchlan and O'Neill deny murder and attempting to defeat the ends of justice.
O'Neill has lodged a special defence incriminating Mrs McGarrigle's husband Robert as being responsible for her death.
He also faces a a charge of assault or an alternative allegation of culpable and reckless conduct.
The trial, before Judge Lord Pentland, continues.
Related Internet Links
The BBC is not responsible for the content of external sites.