Who will replace U2 at Glastonbury?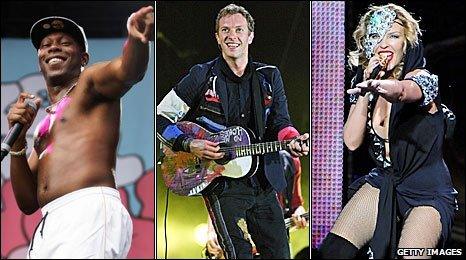 U2 have pulled out of their headline slot at the Glastonbury Festival after Bono suffered a back injury.
It is a blow for the event, which finally thought it had the Irish band in the bag for its 40th anniversary. So who could step in and take their place?
Singer Chris Martin is close friends with festival organisers Michael and Emily Eavis and credits them with boosting his band's career when they were asked to headline in 2002.
The band also headlined in 2005 and have not performed at Worthy Farm since. They wrapped up a world tour in Mexico in March.
The rapper is immediately below U2 on Friday night's main stage line-up and could now be promoted to the top slot, as Basement Jaxx were when Kylie Minogue pulled out in 2005.
His new single is on course to become the fourth number one to be taken from his latest album Tongue N Cheek.
He is a crowd favourite and there are no barriers to having a hip-hop headliner after Jay-Z's trailblazing set in 2008.
The Tennessee band's headline slot at Glastonbury in 2008 catapulted them onto the A list.
Since then, they have become bona fide stadium-filling, multi-million-selling stars.
They are already playing at Hyde Park in London on Wednesday 30 June - three days after Glastonbury ends, with a space in their diary during the festival itself.
Michael Eavis has been trying to bring two bands to Worthy Farm for years, if not decades - U2 and The Rolling Stones.
Now U2 are out of the equation, he may turn to the wrinkly rock legends to have headliners of equal star power.
But The Stones have never done festivals and are not in tour mode.
Led Zeppelin never played Glastonbury and have only played one date in the last 22 years - at the O2 in London in 2007.
Asked on BBC 6 Music whether he would rule out the possibility of filling in for U2, guitarist Jimmy Page replied: "I never ruled anything out in the future, from the O2."
Singer Robert Plant may be more difficult to convince.
The pop diva was due to headline five years ago, but withdrew when she was diagnosed with breast cancer.
She could finally appear on the Pyramid Stage this year and has a new album to promote. Aphrodite is released on 5 July, just a week after Glastonbury.
But her last tour ended in October 2009 and activating the intricate Kylie gig machine would be a big job.
The Beatles legend headlined Glastonbury with a crowd-pleasing hit-filled set in 2004.
This year, he has gigs in Glasgow on Saturday 26 June and in London's Hyde Park on Sunday 27 June. But there is a gap on Friday 25 June - the night U2 have vacated.
It is two years since the controversy over whether the New York rap giant was suitable for a headline slot at the festival.
Oasis star Noel Gallagher said hip-hop was "wrong" for the event but Jay-Z stole the show and blew his critics away.
This year, he is playing several European festivals, including Isle of Wight, Wireless and T in the Park - but nothing on Glastonbury weekend.
Related Internet Links
The BBC is not responsible for the content of external sites.