Daughter's new inquest bid on Anglesey mother refused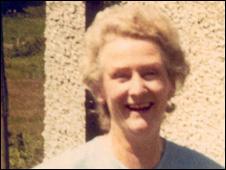 A daughter has lost a High Court attempt for another inquest into her mother's death.
Doreen Morris was killed at her Anglesey home in March 1994, when her house was set alight.
The first inquest returned a verdict of death not ascertained, but her daughter Audrey Fraser, from Colwyn Bay, believes it should be unlawful killing.
North Wales Police are still investigating the death, which they are treating as murder.
A man was charged with murder in 1995, but was cleared by a jury.
Mrs Fraser obtained special permission from the attorney general to launch her case, against the cause of death recorded by the then Anglesey coroner, Emyr Ditton Jones - who has since died - in the register of deaths.
The judge, Mrs Justice Rafferty, accepted that, at the murder trial, it had been accepted by both crown and defence that someone had murdered Mrs Morris, and the only issue for the jury was whether the killer was the man who was exonerated.
However, the judge accepted argument from the current coroner, Dewi Pritchard Jones, that is was not "necessary or desirable in the interests of justice" for a fresh inquest to be held more than 16 years after Mrs Morris died.
Mr Prichard Jones argued that, even if a fresh inquest was convened, it was by no means inevitable that an unlawful killing verdict would follow.
There was a "real risk" that an open, narrative, verdict might be entered," he added.
Dismissing Mrs Fraser's case, Mrs Justice Rafferty, sitting with Lord justice Pill said: "I have some sympathy with Mrs Fraser's desire to right what she sees as a wrong.
"She has over the years pursued her quest with diligence and determination."
Mrs Fraser had put her arguments "before us with quiet dignity and an obvious desire that what she perceives as an obstacle to fairness should be removed."
It was with "human understanding" that the judge was unable to find in her favour, she added.
"I am not satisfied that it is necessary or desirable in the interests of justice that another inquest should be held," she said.
"I share the opinion of the coroner that, were an inquest resumed, it is far from certain that the verdict of which Mrs Fraser is confident would certainly be returned," the judge added.