Azerbaijan boom benefits super-rich oil elite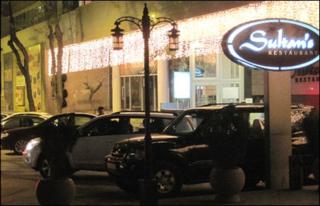 It is more than 100 years since Azerbaijan's first oil boom, but in the glitzy centre of the capital, Baku, it looks like the glory days never ended.
Concert halls, caviar restaurants and car showrooms stand alongside the turn-of-the-century apartments built on oil money at a time when British, Dutch and Russian extractors were rushing to the city.
Then, the prime beneficiaries were the local and foreign oil barons. These days, a new Azeri upper crust has most to gain from Azerbaijan's fortune.
The government controls the prices of most energy products and owns key enterprises.
In its 2009 corruption perceptions index Transparency International placed Azerbaijan at 143 out of 180 countries.
But it is the widening gap between rich and poor which is the most obvious result of the new energy boom.
The rich businessmen who preside over the city live in polished stone and marble mansions nestled among Soviet-era concrete blocks.
The Azeri elite keep themselves to themselves, but most people know who they are.
The Minister for Emergency Situations, Kamaladdin Heydarov, Transport Minister Ziya Mammadov and the president's security chief are the wealthiest and most powerful in the governing elite, according to some analysts.
The glamorous first lady of Azerbaijan, Mehriban Aliyeva, is a known sponsor of major cultural projects and elite tourism ventures in Baku.
Hunting for information
However, the precise wealth of these powerful Azeris is not known. The BBC made contact by letter with the offices of each of them, but did not receive a reply.
I did get through to the son of the Emergencies Minister, Tale Heydarov. His official title is president of Gabala Football Club, the very same one where Tony Adams, the former England and Arsenal star, has signed a lucrative contract as coach.
But Mr Heydarov's personal fortune is cloaked in mystery.
His powerful family is believed to run a huge company called Gilan - which owns the football club - although he prefers to keep the exact details quiet.
As he sits in a large office with plush carpets, marble lamps, four telephones and a large desk, I ask him whether the widening wealth gap and talk of corruption is a problem.
"As a normal citizen, I can say that any country faces challenges [after its] independence. We are a very new and independent country and among the ex-Soviet countries, Azerbaijan is one of the most developed," he says.
Corruption questions
Investors - particularly in construction - also appear to be reaping handsome profits while the energy boom lasts.
Baku-based Turkish businessman Yavuz Keles, director of Tusiab - a construction company based in Baku with $3bn (£2.1bn) of assets - says corruption is not unique to Azerbaijan.
"It is a regional problem," he says. "Officials are already talking about the problem, that is a start."
A feature of this boom is the concentration of oil revenue in the hands of the political elite, one local expert says.
"Azerbaijan's oil is monopolised by the state, so of course the state benefits," says Ilham Saban, an analyst at Turan news agency.
"The spending of oil money is only done with the approval of the president."
The situation is unlikely to change in the very near future.
President Ilham Aliyev's second five-year term is due to expire in 2013, but a referendum in 2009 made it possible for him to run for office as many times as he wants.
Critics say this will allow him to preside over Azerbaijan's oil production as it reaches its peak. With new explorations being launched in the Caspian Sea by BP and others, the expected decline in production might yet be postponed.
Recently, the Washington Post reported that nine waterfront mansions in Dubai, worth a total of $44m, were purchased in the name of President Aliyev's 11-year-old son.
A senior official, Ali Hasanov, would not answer questions about the story when he was contacted by the BBC in March by phone.
But, later, to local media, he did not deny it.
"Every person may possess anything. This is normal as long as he gets it within law and the constitution," he told the Azeri newspaper, Yeni Musavat.
Them and us
Outside Baku, there are signs of widespread unemployment and poverty.
The way Azerbaijan spends its money is frowned upon by Western governments.
A Baku taxi driver, calling himself Farhad, drove me towards villages just 20km (12.4 miles) from the capital which have limited gas and water supplies.
"The rich rule society and that means we don't have access to the same parts of the city as they do. They drive the four-by-four cars and have access to big social events. We don't," he says.
The divide is as clear-cut as the glass-and-metal skyline of booming Baku.