Water problems hit 'higher' homes in Wallasey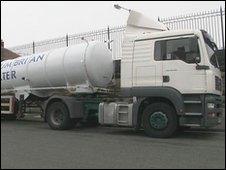 Households in some parts of Wirral are facing continuing disruption to their water supply.
United Utilities has sent tankers to pump thousands of litres of water directly into the mains around Wallasey.
But some residents are still experiencing low pressure - four days after the fault started.
United Utilities engineers are still trying to repair the faulty mains valve which led to the loss of supplies.
Homes in Wallasey first lost water pressure on Saturday, and although tankers are maintaining an alternative supply some homes on higher ground are experiencing intermittent low pressure.
"Two of the tankers are pumping continuously into the local network at Wallasey Village, to assist customers on higher ground experiencing very poor pressure," said Gary Dixon, director of customer services.
"The repair work to the valve is a major engineering challenge for the firm, due to the size of the valve, the depth of the excavation required and its proximity to overhead electricity lines.
"We're working round the clock, so that we can return things to normal. In the meantime, the water tankers are keeping local homes supplied."
The 36" (91cm) valve is in a farmer's field next to Ford Road on the Beechwood estate and "around the size of a family car", the company said.
"Once again, we apologise sincerely for any continuing inconvenience, and would like to reassure customers that we are doing everything possible to return things to normal," Mr Dixon added.
Compensation will be paid to those affected by the incident, the firm said.
Related Internet Links
The BBC is not responsible for the content of external sites.