American tourists kidnapped by tribesmen in Yemen freed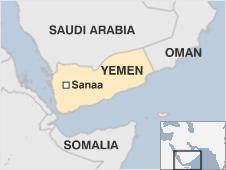 An American couple kidnapped in Yemen have been released, government officials have said.
The tourists were seized on Monday along with their driver and tour guide as they drove near the capital Sanaa.
The kidnappers, from one of Yemen's many powerful clans, demanded the government release a jailed tribesman.
The US government had said the kidnapping of the US nationals - a man and a woman - was "not believed to be terrorism related".
Yemen's tribes frequently kidnap people to gain leverage in rows with Sanaa.
"The Americans have been freed and handed over to the mediation committee," a government official told news agency Reuters.
It had been reported that the man the tribesmen wanted released had been arrested in a land dispute.
More than 200 foreigners have been kidnapped in recent years; most are released unharmed.
Two Chinese oil workers were freed this month after being kidnapped in the south-east of the country.
In another region, however, a German married couple, their infant son and a British man are still missing after being kidnapped almost a year ago.
Last week the family's two young daughters were located in a disputed border region by the Saudi Arabian armed forces.