US 'web suicide aider' ordered to stay off internet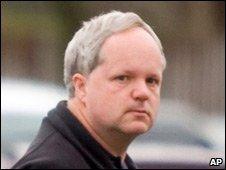 A judge in the US state of Minnesota has ordered a former nurse accused of encouraging suicide on the internet to stay offline.
William Melchert-Dinkel, 47, is charged in connection with the deaths of Briton Mark Drybrough in 2005, and Canadian Nadia Kajouji in 2008.
He allegedly posed as a female nurse, advising people in chatrooms on how to take their own lives.
He reportedly admitted helping up to five people kill themselves.
During Mr Melchert-Dinkel's first court appearance in Rice County, Minnesota, the judge ordered him to stay offline while the case was pending.
The former nurse did not speak in court except to say he understood the charges, the Associated Press reports. The judge set the next court date for 29 June.
If convicted, Mr Melchert-Dinkel faces up to 15 years in prison.
Prosecutors say Mr Melchert-Dinkel admitted he had encouraged "dozens" of people to commit suicide for the "thrill of the chase".
Prosecutors argue that he posed as a female nurse - using nicknames "Cami", "Falcon Girl" and "Li Dao" - and pretended to feel compassion for people contemplating suicide in chatrooms.
He is believed to have entered suicide pacts with some prospective victims.
The criminal complaint mentions two people: Mark Drybrough, 32, who hanged himself in Coventry in 2005, and Nadia Kajouji, 18, who drowned in 2008 in a river in Ottawa.
Mr Melchert-Dinkel reportedly offered some victims detailed instructions on how to commit suicide.
The complaint says he told police he stopped using internet chatrooms shortly after Christmas 2008, because he "felt terrible" about his role as an advocate for suicide.
Some legal experts say it could be difficult to prosecute Mr Melchert-Dinkel because he allegedly only encouraged the victims to kill themselves without physically helping them.