Mauritania gives three men death for French killings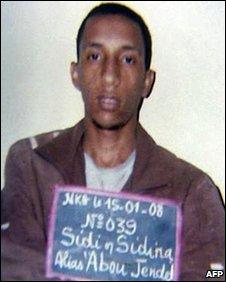 A Mauritanian court has sentenced three al-Qaeda suspects to death for the murder of four French tourists in 2007.
It is the first death sentence passed in the country for more than 20 years.
The three men were convicted of killing the tourists, who had stopped to picnic beside a highway near the southern town of Aleg. The family of at least one defendant has promised to appeal.
Mauritania has suffered low-level violence for more than a year.
The government has blamed it on cells linked to al-Qaeda's North African wing.
Those sentenced were Sidi Ould Sidna, Mohamed Ould Chabarnou, and Maarouf Ould Haiba.
Mohamed Ould Haiba, the father of Maarouf Ould Haiba, condemned the ruling. "The case found no tangible evidence," he told Reuters news agency.
Some analysts say the ruling is likely to be commuted to a lengthy jail term.
The three were on trial alongside more than a dozen other al-Qaeda suspects as part of efforts by the governments of Algeria, Mauritania, Mali and Niger to counter a wave of recent kidnappings of foreigners claimed by al-Qaeda in the Islamic Maghreb (AQIM).