New benefit system labelled unfit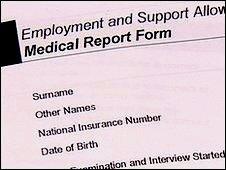 A new benefits system promising to end the UK's sicknote culture has been condemned as unfit for purpose.
Employment Support Allowance (ESA) was introduced 18 months ago to replace incapacity benefit.
But its new medical assessment has led to allegations by Citizens Advice Scotland that it targets the most vulnerable.
However, the Department for Work and Pensions believes ESA is the best way to ensure people get back to work.
A BBC Scotland investigation found that under ESA, more than two thirds of claimants are being found fit to work, almost 20% more than the government had planned.
It is now the most commonly appealed benefit, with 8,000 tribunals heard every month across the UK - and 40% of decisions are being reversed.
So far, only those claiming after 2008 have undergone the medical, but longer-term claimants are due to be transferred to ESA in October.
Citizens Advice Scotland said that the system was unfit for purpose and called for an urgent review.
Before his promotion to Secretary of State for Scotland, Liberal Democrat MP Danny Alexander also questioned whether the roll-out should go ahead.
ESA's controversial medical assessment is based on a points system. Those scoring 15 or more are entitled to extra money, and support back into employment.
Those scoring less than 15 have to apply for jobseekers allowance, or find work.
Paisley GP, Chris Johnstone, has piloted a back-to-work scheme and said he had serious concerns about the medical.
He believes the medicals are not thorough enough and they "don't appear to cover the areas that the patients want to talk about, often mental health problems".
Dr Johnstone added that a lot of stress and anxiety had been caused to a "vulnerable group of patients".
The medicals are carried out by private company Atos healthcare which also conducts staff medicals for the civil service.
ME sufferer Vikki Bell was dismissed from her Department for Work and Pensions desk job she had held for 15 years, after an Atos assessment concluded she was too ill for the role, and was unlikely to return in the foreseeable future.
But just three weeks later when applying for ESA, she was told by another Atos assessor that she was fit to work and did not qualify for the benefit.
Atos said the tests undergone by Ms Bell - who has since qualified for ESA after reapplying - were different with different criteria.
An Atos spokesman added that the company was audited by the DWP to ensure a high standard of assessment and that medical advice was correct.
A BBC freedom of information request revealed there are eight thousand ESA appeals heard every month. This is double the number of the next most appealed benefit, disability living allowance, which has seven times more claimants than ESA.
And around 40% of ESA appeals find in favour of the claimant.
Speaking before his promotion to the Cabinet, the Lib Dems' Mr Alexander questioned whether it was appropriate to roll out the programme.
He added: "If the experience we've had over the last few months is anything to go by, there will be thousands, tens of thousands, maybe hundreds of thousands of incorrect decisions that are made.
"Tens of thousands of appeals will follow, and that will be a system, then, that is close to meltdown."
Citizens Advice Scotland, which has given the BBC access to its report on ESA's first 18 months, has called for the roll-out to be shelved pending an independent review.
The Department for Work and Pension plans to press ahead with the roll out from October and it is expected to be implemented nationally from next year.
A statement from the department said: "People need much more support to manage their conditions and get help to find work and moving them to ESA is the best way to do that.
"We are fully aware this is a big undertaking and that is why we are working on plans to make the change happen as smoothly as possible."
You can see BBC Scotland's investigation - Benefits: Who's Cheating Who? on BBC One Scotland at 2245 BST
Related Internet Links
The BBC is not responsible for the content of external sites.