'Pink Hitler' advertisement upsets Sicilians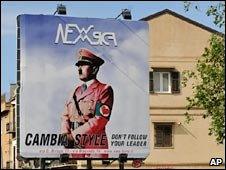 An advert for a clothing shop that features Adolf Hitler dressed in pink has provoked outraged reactions in Italy.
The posters were put up in the city of Palermo in Sicily, with the caption: "Change your style. Don't follow your leader".
The swastika on Hitler's armband has been replaced by a heart.
But the local association of wartime resistance fighters said the adverts were offensive to those who had fought fascism.
World War II resistance fighters wrote to the mayor demanding their immediate withdrawal.
A spokesman said that the posters violated democratic principles.
The advertising agency behind the posters told Italian media the aim was to ridicule Hitler, not minimise his crimes.