Iraqi Airways drops Europe flights in row with Kuwait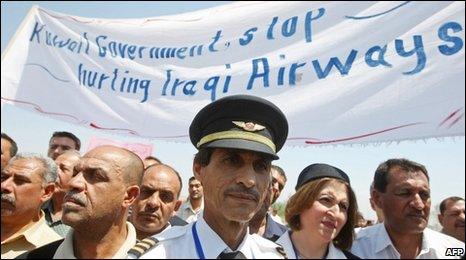 Iraqi Airways has dropped flights to London and Sweden after a row with Kuwait over war reparations.
When the airline's first jet to fly to London in more than 20 years arrived last month, Kuwait tried to have it confiscated.
The state-owned airline's chief was temporarily stranded in the UK on the basis of a UK court order.
Iraqi Transport Minister Amer Abdul-Jabbar is expected to decide on Wednesday on the airline's future.
"We will announce whether or not we will dissolve the company," he told Reuters news agency after meeting cabinet colleagues in Baghdad.
Iraq and Kuwait are locked in a dispute over billions of dollars in reparations from Baghdad, including about $1.2bn (£0.8bn) related to aircraft and parts seized during Saddam Hussein's 1990-91 invasion.
The historic Iraqi Airways flight to London on 25 April was delayed nine days by Europe's volcanic ash cloud crisis, but it was already nearly a year behind schedule.
Touching down in London's Gatwick Airport, the jet was impounded on the basis of a court order obtained by a lawyer for state-owned Kuwait Airways.
The lawyer said the order from the High Court in London included freezing the assets of Iraqi Airways worldwide "subject to frequent judicial review".
It required the director general of Iraqi Airways, Kifah Jabar Hassan, to provide a statement on the airline's assets, remain within the jurisdiction of the court and surrender his passport.
He was later allowed to leave Britain.
Mr Hassan confirmed on Tuesday that the London and Sweden routes would be cancelled.
The transport minister said Kuwait had been stepping up its efforts against Iraqi Airways in recent days.
"Our planes that land in Sweden, London and Germany, they are blocking supplying them with food, fuel and water," he said.
He suggested that if Iraqi Airways were to be declared bankrupt, Kuwait would have to drop its claims.
"We can establish another airline company and put an end to this case," he added.
"With this, the Kuwaitis will get nothing.
Related Internet Links
The BBC is not responsible for the content of external sites.