Lecturers at Manchester college balloted over strike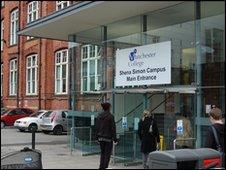 Lecturers at a college in Manchester are being balloted for strike action over their terms and conditions.
The Manchester College, which the University and College Union says is the largest of its kind in the country, wants to introduce new contracts.
Staff teaching adults would be on different contracts to those teaching 14 to 19-year-olds.
The college said the contracts were needed to protect its future but the union said the plans were "unworkable".
The University and College Union (UCU) said the proposals would "lead to a two-tier workforce" and are "unworkable as staff do not operate in separate silos and many will perform duties that could place them on either contract".
It said the changes would have a "massive impact" on staff and students and it had been left with "no option but to ballot for industrial action" after the college refused to reconsider its plans.
Isobel Brotherston, branch secretary of UCU, added: "We want one contract that is adaptable for everybody, so we are not dividing the workforce."
In a statement, the college said: "The Manchester College's finances are currently robust although, with major funding cuts within the sector, the college is now in a position where it needs to take measures to protect its financial health and avoid destabilisation in the future."
It said its funding had been changed earlier this year, separating money for teaching teenagers and adults.
The ballot will close on 11 June.
Related Internet Links
The BBC is not responsible for the content of external sites.