Oona King's knife crime pledge in mayoral candidate bid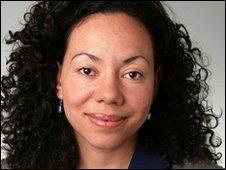 Oona King promised to improve the lives of London's children as she officially launched her bid to become Labour's 2012 mayoral candidate.
The ex-MP, who lost the Bethnal Green and Bow seat in 2005, spoke to children in the Camden school in north London where she studied.
Boris Johnson's predecessor Ken Livingstone has also spoken of his desire to run for the post.
Ms King said she wanted to open doors for those who are "easily forgotten".
The 43-year-old, who wants to be an "advocate for children", was ousted after eight years in Parliament by Respect party's George Galloway in the 2005 general election.
She said: "Half of all Britain's poorest children live in London. When children aren't treated in a civilised manner, they cannot learn to be civilised themselves.
"Damaged human beings leave a trail of victims in their wake, especially as they turn from toddler to teenager, and sometimes (even if it is in a small minority of cases) they exchange a small baby's rattle for a large kitchen knife."
She added: "Given the right environment, every child is a future star. But it's communities, as well as parents, that hold the key."
"In the past I've run programmes to open doors for those so easily forgotten. As mayor, I would do it again, but on a bigger scale."
Addressing students at Haverstock Business and Enterprise School, she also spoke of her love of music.
Ms King said: "By the way I love music. I even called my diaries about my time as an MP, House Music.
"Can you imagine what it was like to be the only MP in Parliament who likes house music?"
She promised to bring a "fresh approach" and added that she would bring a steely determination to the role.
The nominations for the mayoral election opened on Tuesday and hopefuls can register their names until 18 June before parties choose their candidate.
An electoral college will pick the final candidates for the race and announce the names in September.
Related Internet Links
The BBC is not responsible for the content of external sites.