Bloody Sunday report will be published on 15 June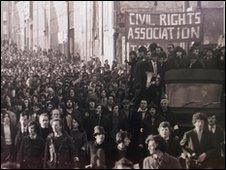 The report of the Bloody Sunday Inquiry will be published on 15 June, the secretary of state has confirmed.
Owen Paterson said he was "determined to ensure that the arrangements for publication are fair to all those involved".
Families of those who died or were injured, and the soldiers most directly involved, will be able to see it some hours before it is published.
There will also be a debate in the Commons on the report in the autumn.
Thirteen people died after paratroopers opened fire during a civil rights march in Londonderry on 30 January 1972. Another person died of his injuries some time later.
On the morning of publication, relatives and their legal teams will assemble at the Guildhall in Derry to study the report before it is handed over in Westminster.
Tony Doherty, whose father Paddy was killed, said he was "relieved" at the announcement.
"We are looking forward to the date with a degree of trepidation and I would be confident it would vindicate all of those that were killed and wounded on Bloody Sunday," he said.
"It will also vindicate the approach that the families have taken.
"I think all of those who were killed or injured will be formally declared innocent. I know that has been done at a political level, but I think it is very important to do that at a judicial level."
The inquiry by Lord Saville opened at the Guildhall in 1998 and heard evidence from more than 900 people.
The inquiry finished hearing evidence in 2004, with the report initially due for publication the following year.
Deputy First Minister Martin McGuinness has welcomed the announcement.
"The families of those murdered on Bloody Sunday have fought a long and difficult campaign for the truth about the events in Derry 38 years ago," he said.
Foyle MP Mark Durkan said the "deep feelings and needs" of the families needed to be "respected".
"As those most affected cope with the mixed emotions of the next few weeks, politicians should spare them partisan speculation about the report and insensitive denigration of the inquiry process," he said.