Man charged with Newry courthouse car bomb attack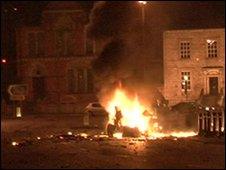 A man has appeared in the same courthouse in Northern Ireland that he is accused of bombing in a dissident republican attack in February.
Ciaran Farrell, 51, of Killeaton Park, Dunmurry, was accused of the car bomb which damaged Newry courthouse.
He denies causing an explosion likely to endanger property or life. Bail was refused.
Mr Farrell is a brother of Mairead Farrell, one of three IRA members shot dead by the SAS in Gibraltar in 1988.
In court on Wednesday, prosecution lawyers objecting to bail being granted said there was a risk of reoffending.
The prosecution said Mr Farrell was either a member of the Real IRA or closely aligned to it, and there was a fear he would associate with dissident republicans if he were granted bail.
They said there were concerns he may abscond because of the serious nature of the charge.
The court was told the accused's wife is a US national and that he travels often to the United States.
The court heard that police are looking for a second individual in connection with the offence.
A defence solicitor said the accused had made himself available when he knew the police were looking for him and that the case was based only on circumstantial evidence.
He said that apart from a colourful motoring career, Mr Farrell had not come to the attention of police.
Mr Farrell was refused bail and will appear again by video link on 23 June.
No-one was killed or injured in the attack but the explosion did cause damage to the gates of the courthouse. It was the first time a large car bomb had exploded in Northern Ireland for 10 years.