'First' Kashmir survey produces 'startling' results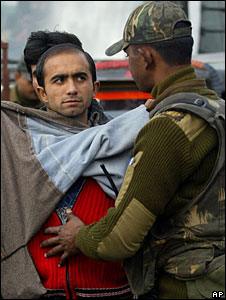 A survey which a British academic says is the first systematic attempt to establish the opinions of Kashmiris has produced "striking results".
Robert Bradnock interviewed more than 3,700 people in Indian- and Pakistani-administered Kashmir to assess their views on various issues.
One of the key questions put to respondents was how they saw the future of the territory.
Nearly half of those interviewed said they wanted independence.
Another question asked for their views over the continuing insurgency.
Dr Bradnock - an associate fellow at the Chatham House think-tank in London - says that the survey has produced startling conclusions, especially in relation to the future of the territory.
It revealed that on average 44% of people in Pakistani-administered Kashmir favoured independence, compared with 43% in Indian-administered Kashmir.
"However while this is the most popular option overall, it fails to carry an overall majority on either side.
"In fact on the Indian side of the Line of Control [LoC] - which separates the two regions - opinions are heavily polarised," Dr Bradnock told the BBC.
The survey found that the "overwhelming majority" of people want a solution to the dispute, even though there are no "simple fixes".
Dr Bradnock said that in the Kashmir valley - the mainly Muslim area at the centre of the insurgency - support for independence is between 74% and 95%.
But in the predominantly Hindu Jammu division to the south, support is under 1%.
80% of Kashmiris on both sides of the LoC say that the dispute is important to them personally
Concern over human rights abuses stands at 43% on the Indian side and 19% on the Pakistani side
Concern over unemployment is strong across the territory - 66% on the Pakistani side and 87% on the Indian side
Few are optimistic over peace talks - only 27% on the Pakistani side and 57% on the Indian side thought they would succeed.
Dr Bradnock said that it was "clear" that a plebiscite on the future of Kashmir - along the lines envisaged in UN resolutions of 1948-49 - is "extremely unlikely to offer a solution today".
"The results of the polls show that that there is no single proposition for the future of Kashmir which could be put to the population... and get majority support," he said.
"The poll offers no simple fixes but offers signposts - through which the political process, engaging India, Pakistan and wider Kashmiri representation - could move it towards resolution."
Related Internet Links
The BBC is not responsible for the content of external sites.