Thousands support Coventry doctor Raj Mattu's campaign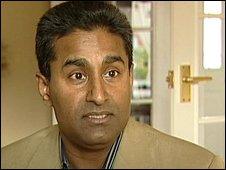 Five thousand signatures have been collected for a petition requesting that a heart specialist from Coventry be allowed to return to his job.
In 2002, University Hospitals Coventry and Warwickshire NHS Trust suspended cardiologist Raj Mattu for five-and-a-half years over bullying allegations.
Dr Mattu said he was being punished for whistleblowing about two deaths in the trust's overcrowded hospital bays.
He was cleared of bullying in 2008 but remains unable to work in Coventry.
In 2008 the General Medical Council rejected all 150 claims that Dr Matthu had bullied a junior doctor.
He undertook some refresher courses at a hospital in London in 2009 but to date his former hospital trust has refused to re-instate him in his job and has taken further disciplinary action against Dr Mattu about allegedly speaking to the press, which he denies.
The Dr Raj Mattu Reinstatement Committee has gathered 5,000 signatures for a petition which it is due to present to the trust on Wednesday.
Eleven patients died in overcrowded bays at the former Walsgrave Hospital in Coventry but a review in 2004 cleared the trust of responsibility for any of the deaths in relation to overcrowding.
Walsgrave Hospital has since closed and been replaced by the University Hospital.
The trust said information regarding any of its employees was confidential.
Related Internet Links
The BBC is not responsible for the content of external sites.