Work on faulty water valve in Wallasey postponed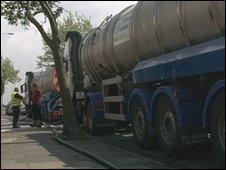 Work to repair a faulty mains valve, which has led to disruption of water supplies to homes in Wirral, has been postponed by United Utilities.
Engineers had hoped to repair the 36in (91cm) valve, which is 30ft (9m) below a field in Upton, overnight.
Instead, they will carry out further work on the local water supply network to ensure the repairs can be carried out with less disruption.
Tankers are continuing to pump water into the mains in Wallasey.
The water supply has remained "steady" thanks to the thousands of litres being brought in, the company said.
Bottled water has also been brought to the area as a precaution.
Scott Beard, Regional Water Network Manager, said: "A lot of very detailed preparations have been made for this operation over the last few days.
"Obviously, we are keen to get this work done as soon as we can but if there is a way to carry it out with less impact for customers who have already suffered a great deal of inconvenience, it has to be the right decision.
"We will be working continuously to prepare the site and monitor water supplies.
"Once again, we'd like to thank people for their patience and co-operation."
The work to replace the valve will be rescheduled to take place in the next few days.
United Utilities said it would compensate people affected by the disruption.
Related Internet Links
The BBC is not responsible for the content of external sites.