Taiwan iPhone-maker Foxconn opens doors after deaths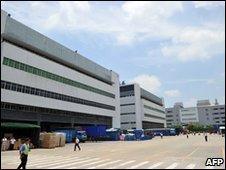 A factory in southern China where nine employees have committed suicide this year has opened its gates to the media.
The plant in Shenzhen, owned by Taiwanese company Foxconn, employs over 400,000 people and manufactures mobile phones for Apple Inc and many other top brands.
The media tour was an effort to show the company is dealing with the problem.
Apple says it is "saddened and upset" by the recent string of suicides.
The chairman of Foxconn's parent company, one of Taiwan's most famous businessmen Terry Gou, took reporters around the Shenzhen plant himself.
It is huge - a town within a town, with shops, post offices and banks as well as an Olympic-sized swimming pool.
"You can see we have the facilities for workers who want to relax," Mr Gou told reporters.
This is not a place that treats its staff badly, he said.
But labour activists in neighbouring Hong Kong disagree.
They claim shifts are long, the assembly line moves too fast and that managers enforce military-style discipline on the workforce.
Now Chinese newspapers are reporting that the company has told workers to sign letters promising not to kill themselves and strung up nets around high buildings to try to prevent staff falling to their deaths.
Workers are also being asked to agree to undergo psychiatric treatment if their managers deem it necessary.
That worries some of them, who fear they could be locked up in institutions if they fall out with colleagues or bosses, according to the local media reports.
But the company points out that despite the bad publicity, each day around 8,000 people still apply to work at the factory.
Apple, whose iPhones are made there, says it will evaluate what Foxconn is doing to address the problems and continue ongoing inspections of the facilities where its products are made.
Related Internet Links
The BBC is not responsible for the content of external sites.