Korean rhetoric of war could end in dialogue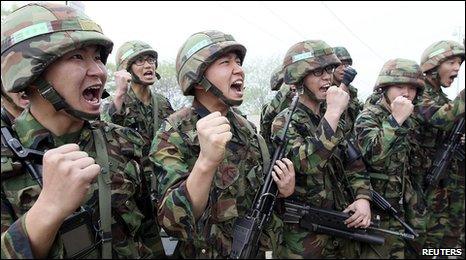 If you are looking for a sign that the confrontation between North and South Korea will not lead to war, there might be a clue in the statement issued by the North on Tuesday.
Amid the amazingly inventive rhetoric announcing that the North is breaking off all contact with the South there is the announcement: "There will be neither dialogue nor contact between the authorities during Lee Myung Bak's tenure of office."
Lee Myung-bak is the South Korean president, who came to office in February 2008.
His term (and he is limited to one) is five years. Therefore, the North might be saying that this stand-off will last at least until February 2013.
The implication is that there will possibly be a resumption of dialogue after that and not necessarily a war in between.
I mentioned amazing rhetoric, in which North Korea is the world's last remaining specialist.
Here's a flavour. Note how President Lee, who announced a series of retaliatory measures against North Korea for the sinking of a South Korean warship in March, is the target of the North's wrath.
"There is no need to show any mercy or patience for such confrontation maniacs, sycophants and traitors and wicked warmongers as the Lee Myung Bak group.
"The Lee group's call for "resolute measure" is as foolish and ridiculous a suicidal act as jumping into fire with faggots on its back."
Not that there are not ominous signs of potential conflict.
The North's statement said it was "totally" abrogating the non-aggression pact with the South.
South Korea is also gearing up its military preparations. The New York Times reported that President Lee told his officials that the North must again be regarded as the "official enemy."
Perhaps the most significant underlying aspect of President Lee's public statement was his conclusion that the South's armed forces must be increased and that its defence alliance with the United States must be strengthened.
"The government will solidify the national security readiness. The discipline of the armed forces will be re-established, military reform efforts will be expedited and combat capabilities will be reinforced drastically," he said.
The question is whether it stops here. Has North Korea now taken the steps it feels it needed to?
It is possible to foresee a long period of confrontation and angry exchanges. The days of engagement between North and South have gone.
Diplomats are never sure of the North's exact intentions.
It has played a clever game over its nuclear programme, at one moment agreeing to give it up, then going into reverse and, resisting sanctions imposed on it by the UN Security Council, emerging with a probable nuclear bomb.
It therefore has a record in calculated risk. This crisis might be another example of that.
The North might calculate that the actions it has announced meet its internal requirements for toughness without precipitating a war.
It knows that it is too strong for the South to risk a significant armed conflict (its army is a million-strong) but it also knows that the US, which has 30,00 troops in the South, would not permit an invader to prevail.
The main hope of avoiding war is that North Korea will calculate that it would not survive as a regime.
The US Secretary of State, Hillary Clinton, is trying to get Chinese help in restraining Kim Jong-il from going further. She also wants the Security Council to make what she calls a "strong but measured response."
That could mean more sanctions, but does the North, isolated from all but China, really care?