Manx airport passenger figures low after ash cloud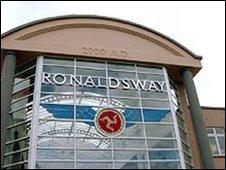 Airline passengers on the Isle of Man who were affected by the ash cloud are not re-booking flights as quickly as expected, airport bosses have said.
Ronaldsway Airport saw a massive drop in passenger figures in April, with almost 13,000 less travelling than in the same month in 2009.
The fall was as a result of flights being grounded for several days.
An airport spokesman said the success of the summer season will be crucial for both the airport and airlines.
The airport saw a23.5% fall in passengers last month, but an expected surge of air travellers has not been seen.
Ann Reynolds, Isle of Man Airport Director, said this had been the hardest period that she could remember for airlines and airports in the British Isles.
"The aviation industry has endured crises from time to time throughout its history, but I cannot recall such a challenging series of traumas as those experienced over the past two years," she said.
Most of the passenger figures were lost in the cancellation of routes to the North West and London, but services to Blackpool and Belfast saw a slight increase.
The airport said these flights were able to continue to operate a shuttle service for some of the affected period because of the relatively low altitude used on the routes.
Related Internet Links
The BBC is not responsible for the content of external sites.