Alcohol prescriptions on the rise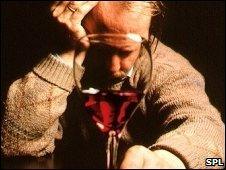 The number of prescriptions given out to treat alcohol dependency has increased, figures for England from the NHS Information centre show.
A total of 150,445 prescription items for two specific drugs were dispensed in 2009, up 12% from 2008.
However the figures may be a marker of a greater willingness to seek treatment, and doctors to offer it.
In 2007, the last time figures were released, the number of men displaying alcohol dependency had in fact fallen.
In 2009 nearly 95,000 prescription items were dispensed of Acamprosate calcium, which helps restore the brain's chemical balance to reduce a patient's withdrawal symptoms from alcohol.
During the same time period just over 55,500 prescription items were dispensed of Disulfiram, which causes a severe and unpleasant reaction in the patient if they drink alcohol.
This was at a cost of £2.38m.
The number of men with symptoms of alcohol dependency fell between 2000 and 2007, from 11.5% of men aged 16 to 74 to 9.3%. The dependency was for the most part categorised as mild.
At 4%, the number of women with symptoms of alcohol dependency remained unchanged over that period.
Chris Sorek, chief executive of the charity Drinkaware, said: "You don't have to be dependent on alcohol to be drinking at levels that put your health at risk.
"More than one in five men and over one in 10 women are technically binge-drinking once a week and they probably don't even realise.
"It's shocking to discover that alcohol-related deaths are again on the increase - and, with a rise in prescription items dispensed to treat drink dependency, it's vital now, more than ever, that we act to educate people on the effects of drinking too much before more people come to harm."
Related Internet Links
The BBC is not responsible for the content of external sites.