Heysel deaths marked on 25th anniversary in Liverpool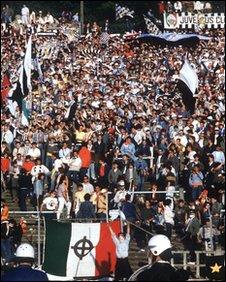 A plaque to remember the 39 killed during the football riots at Heysel has been unveiled at Anfield stadium.
The permanent tribute was placed on the Centenary Stand to honour the Juventus fans who were crushed to death when a wall collapsed on 29 May 1985.
The Italian supporters were killed trying to run away from Liverpool fans during the European Cup final.
It was the first of several events in the lead up to the 25th anniversary on Saturday.
Former Liverpool captain Phil Neal and former Juventus centre back Sergio Brio, who played in the final, attended the ceremony.
Liverpool City Council leader Joe Anderson and honorary Italian consul Nunzia Bertali planted a White Beam tree in St John's Gardens, behind St George's Hall, as a mark of friendship and respect.
Mrs Bertali said: "After 25 years people often think we should move on but it is lovely Liverpool has decided to remember and commemorate in this way, in the name of friendship.
"I admire the fact Liverpool, and Britain generally, does not stick its head in the sand when wrongs have been done.
"I am so grateful for that and really respect it."
The match went ahead, despite objections from both managers, with Juventus winning 1-0 from a second-half penalty.
Those who died included 32 Italians, four Belgians, two French nationals and a man from Northern Ireland.
Mr Anderson said: "I want to extend my sympathies from the whole city of Liverpool.
"It was a part in our history that we regret deeply and I think its right and proper that we should pay our respects in the way that we are doing."
Civic dignitaries from both clubs and representatives from two Italy-based family support groups were also present at the ceremony which was be presided over by Liverpool's club chaplain Bill Bygroves.
Later this week a delegation from Anfield will visit Turin to attend the commemoration events being organised in the city.
Anfield is already home to a permanent memorial to the 96 fans killed in the Hillsborough disaster in 1989.
Related Internet Links
The BBC is not responsible for the content of external sites.