Moorings built for Northampton marina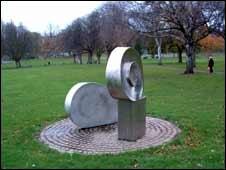 The construction of moorings for a multi-million-pound marina in Northampton is taking place this week.
The Environment Agency will start driving steel piles into the bed of the former boating lake in Becket's Park to form supports for the pontoons.
Once the 46 circular piles are in place, the mooring pontoons will be installed and the lake refilled with water.
The marina will offer 80 moorings, six of which will be for residential use.
Hundreds of fish have already been moved from the lake and released into the River Nene.
Paul Arnold, from the Environment Agency, said: "The piling works mark the start of the construction phase of the marina.
"People will be able to clearly see that the project is quickly moving forward.
"It is an exciting phase of an even more exciting project that will help to regenerate the riverside area of Northampton, linking it with the town centre and putting the town on the boating map."
The marina is scheduled for completion in March 2011.
Related Internet Links
The BBC is not responsible for the content of external sites.