'End referendum public row', says Dafydd Elis-Thomas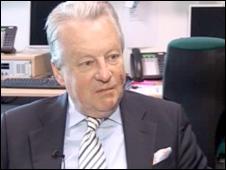 Ministers in Cardiff Bay and Westminster must stop arguing about a referendum on more law-making powers for Wales, the assembly's presiding officer says.
Dafydd Elis-Thomas said the way the issue was being discussed in public by politicians was "not helpful".
Prime Minister David Cameron has suggested a referendum should be held next year.
But the assembly government wants the vote to take place this autum.
Lord Elis-Thomas, who said he was "not a happy bunny", called for the "voice of reason in this matter" and insisted the referendum should be treated as a constitutional rather than a political matter.
The Welsh Assembly Government has said it had no warning of the prime minister's announcement in the Commons on Tuesday that he believed a referendum on new powers should be held in 2011.
The Electoral Commission says a 10-week period is needed to ensure the referendum question can be easily understood by voters, which could prevent an autumn poll.
The new Welsh Secretary, Cheryl Gillan, has not ruled out an autumn referendum but blamed "unfinished business" from the Labour administration for not holding it then - a claim rebutted by her predecessor, Peter Hain.
Describing the situation as "messy", Lord Elis-Thomas said: "I'm not going to get involved in megaphone diplomacy. Megaphone diplomacy between Cathays Park and Whitehall - this is not helpful.
"This is not a matter for political discussion and certainly not for megaphone diplomacy. It's a matter to be worked out constitutionally on the practicalities.
"Parliament has passed now that this should happen. What we've got to do now is make it happen.
"We shouldn't be arguing amongst ourselves [about] what the [referendum] question should be or when it should happen."
Lord Elis-Thomas said work had already been done in Wales on what a possible referendum question might be and said he would be happy for this to be shared with the Electoral Commission and the Wales Office.
He added: "We're very keen that the questions should be fair and clear.
"That's the most important issue, that is in fact more important even than when the referendum should be held."