£30m sits unused on London Oyster travel cards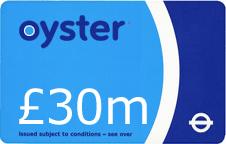 Almost £30m has been left unused on Oyster pay-as-you-go (PAYG) for at least a year, the BBC has learned.
A total of 16.5m PAYG cards sat idle during the year from April 2009 to April 2010. The average amount on each card was £1.80.
Transport for London (TfL) says no card is deemed as expired and users can always claim the balance back.
The smart cards are used to pay for travel in London. There are plans to roll out similar schemes across the UK.
Oyster cards can be topped up for use on buses, tubes and trains across the capital.
Last year alone, 31,000 PAYG cards were issued and topped up but never subsequently used, even though they held £246,000 worth of travel on them, according to information obtained in a Freedom of Information (FOI) request.
"Pay-as-you-go Oyster cards do not expire and customers are able to return their cards at any time for a refund of the remaining balance and card deposit," Transport for London said.
"Revenue generated from fares, including Oyster fares, is used to operate, maintain and upgrade London's transport network.''
However, if your card is lost or stolen you will only be able to make a claim if you had already registered your card with Transport for London.
Director of fares and ticketing Shashi Verma added that TfL had tried to make it "as easy as possible" for commuters to reclaim the balance on their Oyster cards.
"Many don't claim it back as it's just pennies and obviously some of these are tourists," he added.
"One of the busiest places that we have issuing refunds is Heathrow Airport and we provided that facility at Heathrow precisely for this reason, because there are people exiting the country."
TfL added that the £29.85m balance on cards that have not been used for a year equates to just over a week revenue from PAYG top-ups. The firm, which is a not-for-profit organisation, brings in a total of £3bn in revenues annually.
A similar "smart card" scheme currently operates in Newport, and the Welsh city plans to introduce a pay-as-you-go service in several days.
However, unlike the Transport for London scheme, the new service will operate on a "use it or lose it" basis.
A spokesman for Newport Bus said that while the Passport card would never expire, users would be unable to return the card to the company and recover the remaining balance.
Elsewhere in the UK, smart card provider Squid helped Bolton council launch a local services card in 2008 which allows residents to top-up their card and spend the balance on local buses, or services such as leisure centres and libraries and shops. It now also operates a number of cashless schemes across Scotland.
And a number of local authorities have plans to introduce transport smart cards in the future - including Bristol, North and South Yorkshire, Reading, Bristol and the Midlands.
Smartcard Group managing director David Everett said he was "not surprised" by the £29.85m left unspent on Oyster cards in the past year.
He said most people don't realise that any kind of pre-payment card is likely to have unspent funds on it.
"People do lose smart cards, they don't spend them, or they put them away and, of course, the person who issues these cards effectively benefits."
Mr Everett added that the amount left unclaimed on pre-payment cards usually amounts to 2-10% of the value issued and this amount can be built into a company's business model.
"This allows you as a company to say your liabilities will reduce, but the only way to ensure this is if you say it expires over time - for example a gift card that expires after a year - then of course you get that value," he explained.
Related Internet Links
The BBC is not responsible for the content of external sites.