Further arrests over fatal Atherstone fire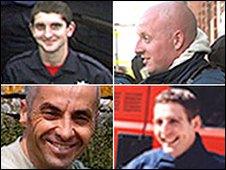 Two more men have been arrested over a warehouse fire in Warwickshire in which four firefighters died.
The men, aged 53 and 47, take the total arrested over the vegetable packing plant fire at Atherstone-on-Stour in November 2007 to 12.
Those held earlier this year remain on police bail pending further inquiries.
The two men were arrested on suspicion of gross negligence manslaughter and will be questioned about offences under the Health and Safety at Work Act.
The men, a 47-year-old from the north of the county and a 53-year-old from the south of the county, presented themselves at a police station in Warwickshire earlier.
The bodies of Ashley Stephens, 20, John Averis, 27, and Darren Yates-Badley, 24, were found in the charred remains of the factory in Atherstone-on-Stour.
Ian Reid, 44, died in hospital after the fire.
Of the 10 men arrested earlier this year, eight were held on suspicion of gross negligence manslaughter and two on suspicion of misconduct in a public office.
Related Internet Links
The BBC is not responsible for the content of external sites.