Highland bullock Hamish gets first girlfriend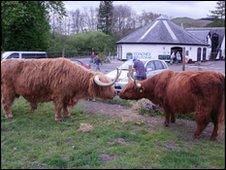 One of Scotland's oldest Highland bullocks has been found a female friend for the first time in his life.
Hamish, a 17-year-old bullock, performed a "Highland fling" when he was introduced to his new companion called Heather.
The pair are now "happily" sharing a field next to the Trossachs Woollen Mill at Kilmahog, Perthshire.
Hamish became famous in 1996 when he was saved from the slaughterhouse at the height of the BSE scare.
Campaigners successfully argued the animal was a hit with children who saw him as a pet, and that he also served an educational purpose.
Claire Muir, who looks after the one-tonne animal, said Hamish was "delighted" to get some female company.
"Hamish is 17 years old - a good bit older than Heather, who is four - but she's taken years off him," she said.
"As soon as the trailer backed into the field and she trotted in, he did a Highland fling.
"It was hilarious. He was prancing around to impress her and, though she wasn't sure about him at first, they have settled down very happily together.
"They lie down together and she scratches his belly with her horns. They even kiss."
Ms Muir said Hamish was a "huge draw" for tourists and received cards and gifts from fans all over the world.
She said he had received Valentines' Day cards from as far afield as Australia.
"He's always been happy, but we decided to bring in a female from a breeder in Fife to keep him company," Miss Muir added.
Highland cattle are an ancient breed, evolved over generations and able to thrive under the most severe conditions. Their extra long coats keep their body heat in and the cold weather out.
They also have large feet in relation to their bodyweight so they can walk and graze safely on boggy peat hags.