War of words ahead of third Glasgow museums strike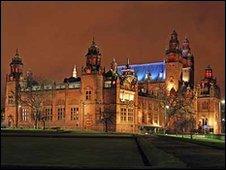 The charity that runs galleries and museums in Glasgow has accused striking unions of trying to maximise disruption to families and visitors to the city.
Culture and Sport Glasgow said unions should present solutions to the pay and conditions dispute rather than go-ahead with a third strike.
The Unison, Unite, GMB and Bectu unions will take action on Friday and Monday.
They claim a pay freeze, and changes to overtime, amount to a pay cut for some staff at Culture and Sport Glasgow.
The dispute follows a decision by Culture and Sport Glasgow - a charity which runs arts, sport and leisure services for the city - to implement a pay freeze from 1 April along with a change to "plain time" for all overtime worked.
It aims to make £3.4m in cuts this financial year and has been discussing with unions how it will implement them since September last year.
Two previous 24-hour strikes have seen venues such as the Kelvingrove Museum and Art Gallery, the Burrell Collection and the People's Palace, closed to the public.
Now Bailie Liz Cameron, chairwoman of Culture and Sport Glasgow, has accused unions of pursuing an agenda of disruption rather than presenting viable solutions to budget problems.
"Faced with a choice between changing the way we work, to reduce costs, such as overtime, or protecting jobs and services, the unions have decided to go on strike," she said.
"In light of the financial crisis faced across the public sector, the time has come to ask the unions what they would prefer - job cuts and reductions in services, or changes to the way we work which help to protect both?
"The unions have made it clear that they want to disrupt services when the people of Glasgow value them most.
"They want to disrupt high-profile events which have helped to put Glasgow on the map. What they will not do is put forward proposals which will help to protect both jobs and services."
Brian Smith, Unison's Glasgow branch secretary, accused Bailie Cameron of having "an upside down view of the world" and said it was not the unions' job to suggest cuts.
"Clearly strike action does cause disruption and we regret that as our members are committed to providing valuable services but ultimate responsibility here lies with the employer," he said.
"It's not the trade unions' job to suggest other cuts, it is our job to defend wages and services.
"It is worth noting in all this that Culture and Sport Glasgow is the only part of the 'Glasgow family' (arms-length council bodies) that has said it will have a pay freeze.
"Why is this company in such financial strife? Is it because of financial mismanagement or is it that the organisation was set up badly in the first place?"
Related Internet Links
The BBC is not responsible for the content of external sites.