Cambridgeshire group applies to move aggressive swans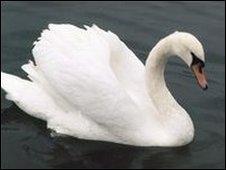 An application has been made to move two swans accused of being aggressive to river users in Cambridge.
The Conservators of the River Cam, who maintain the river between Mill Pit and Bottisham Lock, have applied for a licence to have the swans moved.
One of the birds has been nicknamed Mr Asbo after claims it had attacked rowers.
Natural England said it would consider the application but that permission to move wild birds is not commonly given.
Rowers in Cambridge called for Mr Asbo to be relocated in April and the Conservators of the River Cam say there have been a number of incidents involving the male swan.
"We have had people who have been bruised and shaken up. We have had one direct collision incident between a rowing boat and a narrow boat," a spokeswoman said.
Related Internet Links
The BBC is not responsible for the content of external sites.