'Slow' response from public in Zoe Nelson murder probe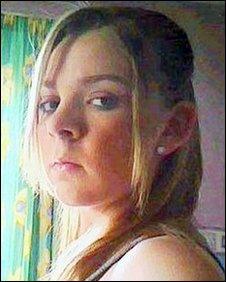 Detectives investigating the murder of Lanarkshire teenager Zoe Nelson have appealed to the public to text or e-mail them information.
The 17-year-old's burned body was discovered in woodland in Wishaw on Sunday.
Police said the response to earlier pleas for information had been slower than they had hoped.
They have now created a dedicated e-mail address and text number for people to contact them directly.
Officers hope those who may be reluctant to speak to them face-to-face will use these other methods to get in touch.
Zoe, who was due to celebrate her 18th birthday in a couple of months, was last seen by her mother leaving her home in Newmains at about 1700 BST on Saturday.
Local residents reported seeing a fire a few hours later at about 2320 BST in an area known as "Monkey Hill", where the teenager's body was discovered by a passer-by on Sunday afternoon.
Up to 60 police officers are working on the murder investigation.
They have been checking CCTV and phone and computer records and have interviewed Zoe's family and friends, including her boyfriend.
Det Supt Derek Robertson, from Strathclyde Police's major investigation unit, said: "Yesterday, I said that we would do all we can to catch the person(s) who murdered Zoe, however, we need the help and support of the local community.
"We know from our inquiries everyone is utterly shocked by what has happened.
"The response so far has been slower than we would have liked, so I would really urge people to get in touch."
He added: "We hope that by offering new ways to contact the investigation team more people will come forward. Links have also been made with other social networking sites in an effort to get as much coverage as possible.
"People may think what they have seen or heard is irrelevant or they may not want to come forward for whatever reason, but one small detail could make all the difference to our investigation.
"We are committed to catching Zoe's murderer and making sure that her family can grieve properly, giving them and the community the comfort that her killer has been caught."
The public can contact the investigation team at ZoeNelsonEnquiry@Strathclyde.pnn.police.uk or by texting 07760 991 282.
Related Internet Links
The BBC is not responsible for the content of external sites.