Premier League pull on African players grows
By Alexis Akwagyiram
BBC News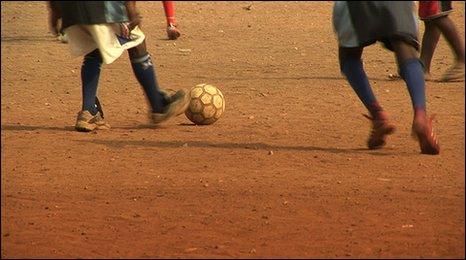 In the early 1990s, when Baff Akoto was sent away from his London home to attend school in Ghana, he found a country where young boys wanted to play basketball in the NBA.
Now, more than 15 years later, the Premier League is broadcast across Africa and the continent's young boys dream of emulating the success of players like Didier Drogba and Michael Essien.
As the rest of the planet turn its eyes to Africa while it hosts its first World Cup, aspiring young footballers across the continent will be plotting an escape route out.
The tournament's African stars are likely to end up plying their trade in Europe, if they don't already.
This phenomenon prompted Baff Akoto, now a director, to make his debut documentary - Football Fables - about a Ghanaian teenager's attempts to fulfil his dreams of playing in Europe.
He says the impact of African players in the Premier League has made English football particularly appealing.
Akoto points out that Premier League champions and FA Cup winners Chelsea have a number of west African players - Drogba and Essien, as well as John Obi Mikel and Salomon Kalou - who all play a pivotal role.
And, beyond England, Samuel Eto'o and Sulley Muntari won the Champions League and Italian title with Inter Milan.
But England's top football division remains the biggest attraction because it is watched so widely.
New overseas TV rights deals for the Premier League from 2010 to 2013 are worth more than £1bn.
"The Premier League is the biggest sporting brand in the world - certainly in Africa," says Akoto.
"Its marketing machine has made it the coolest, funkiest sporting brand around. Meanwhile, the influx of African players and other foreign players allows it to be more marketable abroad.
"Young boys want to play professional football anywhere. The Premier League is appealing because if you play in England you're set - you can go anywhere. You'll always have a club because it's beamed around the world."
The 31-year-old director says the attraction of the English Premier League is simple.
"It's a living. You know you're blessed if you feed yourself and your family through football. This game you love can give you a life. It beats selling toilet brushes in the street."
Steven Pienaar, an Everton midfielder who will represent South Africa on home soil during the World Cup, highlighted this point when he told the BBC how football had been his route out of Westbury, the Johannesburg township he grew up in and described as "gang-infested".
The player, who left South Africa to play for Ajax, in the Netherlands, aged 18 after attending South Africa's School of Football Excellence, told the BBC's Dan Roan: "When I think back, I sometimes pinch myself because a lot of things could have happened while I was still in South Africa and I'm really fortunate I got the opportunity to make something of my talent and God created my path for me."
Where would he be if his talent had not been noticed?
"Maybe in jail somewhere or maybe dead," said Pienaar.
The riches on offer to the league's stars are clear for all to see. A recent report on English football finances by Deloitte revealed Premier League clubs spent 67% of their revenues on player wages during the 2008/09 season.
And it isn't unheard of for a Premier League player to make £100,000 each week.
Many players, such as Ali Benarbia, come to England and play in the lower leagues and some, such as Bolton's Danny Shittu, work their way up from these divisions to the Premier League.
The journey from Africa to England often involves being spotted by the right person - often a local coach - and infiltrating a labyrinthine network of scouts, youth academies, European "feeder" clubs and, finally, the English club itself. Even then success isn't guaranteed.
"There's no certification by the people involved. There is no rubber stamp, whereas there is a very straight process over here in the UK and Europe in general," observes Akoto, whose research for the documentary involved watching how the process works.
Aspiring footballers can be vulnerable to the possibility of exploitation by confidence tricksters seeking money under the pretence of being an agent or, in some cases, human traffickers who take advantage of those who think they are being given the chance to play abroad.
Louis Massarella, features editor at football magazine Four Four Two, says "murky dealings" still go on, as they do in much of the footballing world, but the system of finding and honing African football talent is becoming more sophisticated with the emergence of football academies in parts of west and southern Africa.
Many of these academies have tie-ins with European clubs.
"European clubs know there is a rich pool of talent in Africa so they don't leave it to chance.
"African players have made a big contribution in the Premier League, as well as Spain and Italy."
Inevitably, the exodus of the continent's finest players means African football leagues lack the quality of ones elsewhere but, Massarella says, "unless African infrastructures and economies improve that will never change".
Akoto's documentary follows Francis Boadi, a teenager from a village near Kumasi, in Ghana, who supports Arsenal because they play "attractive football" and cites Cesc Fabregas and Frank Lampard as his favourite players.
Francis, who represented Ghana at the 2007 Under-17 World Cup and hopes to play for a club in Cyprus, echoes many of the points made by the film's director and Pienaar about football offering an alternative life.
"Football means money. Everybody is playing for enjoyment, of course, but also for money.
"Before, I was working in a supermarket. If I wasn't a footballer I'd be working in a supermarket."
Related Internet Links
The BBC is not responsible for the content of external sites.